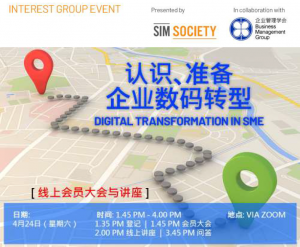 冠病疫情影响了每个企业,迫使我们重新审视运营环境。更重要的是,它显示数码转型不仅能帮助我们度过危机,还能让我们在危机中成长。传统企业和未来企业的唯一区别就是运用新的理念和新的技术来改变自己,未来十年最确定发展的是利用好数码技术提升自身的传统行业的进步和发展。
纲要
一、中小型企业数码化计划
二、步骤审视自身的企业
三、现划数码策略与方案
四、现有平台与政府补助
林德淮先生拥有多年的营运经验。近期他从事提供优质服务,供应链及物流管理培训。他将与你探索供应链管理的发展趋势
欲知详情
Call  ::  Michelle Tan on 6248 9450
Email  ::  michelletan@sim.edu.sg
**All participants MUST register by email before APR 20  to facilitate the sending of the Zoom URL.
By registering for this event, you agree that SIM Society may collect, use and disclose your personal data, as
provided in this application form, or obtained by our organisation as a result of your registration, for the purposes of
processing and administration of this event registration with our organisation. I accept the terms & conditions of
Individual Membership and Personal Data Protection Policy stated on the SIM Society website at
www.simsociety.sg.
NOTE: Photographs and videos may be taken during this event for news and publicity purposes.
Copyright @ 2020 Singapore Institute of Management / Singapore Institute of Management Society. All rights reserved.